As we decorate for the holidays it's a joy to put up the Christmas tree, bedazzle it with ornaments, throw glitter on to every flat surface, and get to the shopping, wrapping, and gift exchanging. And we love it as much as you do! But as dog lovers, we here at New Approach Canine are highly attuned to the hazards that a dog may encounter during this time.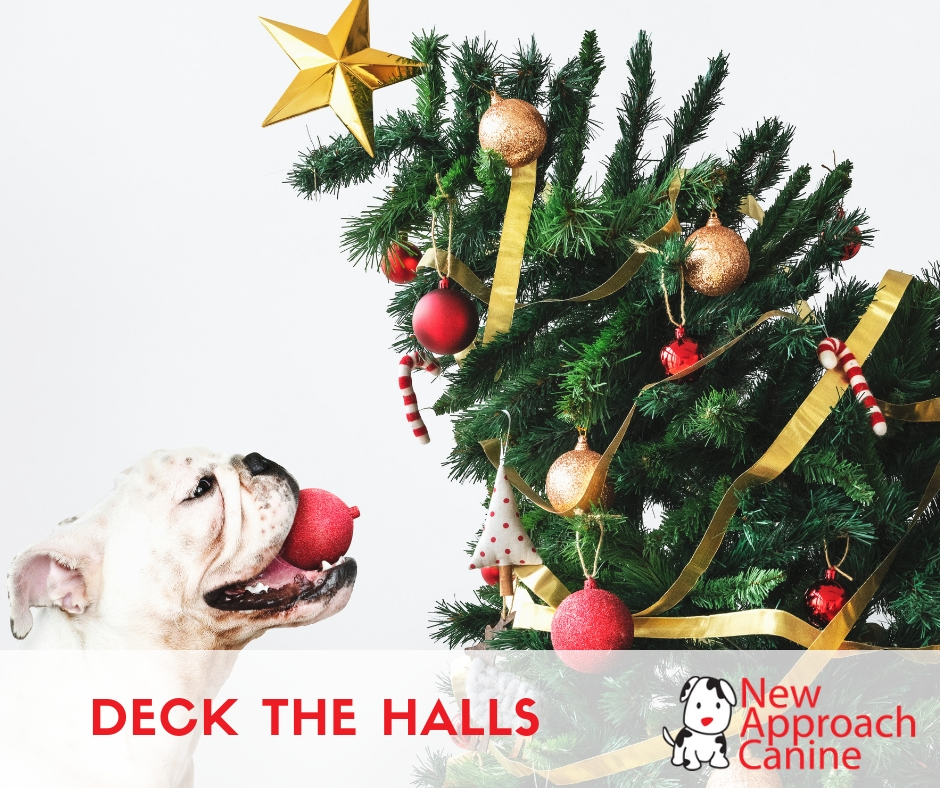 Christmas Tree, O Christmas Tree! How lovely are all the new toys on your branches? This may be the carol your dog is singing as you pull all of the brightly coloured balls and stuffed animals out of the boxes to carefully arrange on your tree, in a bowl on the coffee table, and in the kids' rooms. Since these items weren't meant to be chewed on, you might need new decorations and a scary trip to the emergency vet. Your dog may or may not think it's a good idea to chew on the string of lights, but they may get tangled up if they start rocking around the Christmas tree. And you might want to resist piling gifts under the tree until the big day – if nothing else, your gifts might get napped on! Don't let your dog chew on the tree branches, and discourage them from drinking the water of a real tree.
It's a special time of year and many include candles in their decorating scheme. Never leave a candle unattended, and ensure that they remain above the reach of your dog's head…and tail! Take extra care as well with wires and plugs. Power cords have this wonderful consistency that dogs love to chew on, and while they don't taste like canine dental treats the consistency is probably the same so your Mojo may not mind the flavour. Likewise keep fake snow, tinsel, and garlands out of reach.
'Tis the season for poinsettias, mistletoe, holly, evergreen arrangements, and sticks! So many sticks, sometimes with glitter all over them. Many seasonal plants are at least mildly toxic to dogs, and decorative arrangements may be sprayed or dipped in some sort of finish that could also pose health risks, so keep them up high, or on the porch.
And of course, there's all of the human food. Keep boxes of candy and chocolate well out of reach, and mind the holiday dinner table – if your aunt's cocker spaniel can get her nose into the ham, any dog can! All of those sweets and spices can cause mild to severe health problems for your dog, so you don't have to feel guilty about not sharing.
If you're anything like us, you can't resist including your dog if the Christmas gift exchange, and that's a wonderful thing. Be picky and choose only high quality, respected brands of toys and treats to ensure that they are safe and healthy for your dog. More than anything though, this Christmas your dog just wants to spend quality time with you.
Bring your dog to New Approach Canine to focus on obedience, recall, and resisting distraction. And consider daycare during the holiday season to ensure they don't get into trouble while you're at work all day! Call us to find out more at (519) 208-5559.